Sichuan pepper, Sichuan peppercorn, Szechuan pepper, or Szechuan peppercorn, is a commonly used spice in Chinese cuisine. It is derived from at least two species of the global genus Zanthoxylum, including Z. simulans and Z. bungeanum. The genus Zanthoxylumbelongs in the rue or citrus family, and, despite its name, is not closely related to either black pepper or the chili pepper.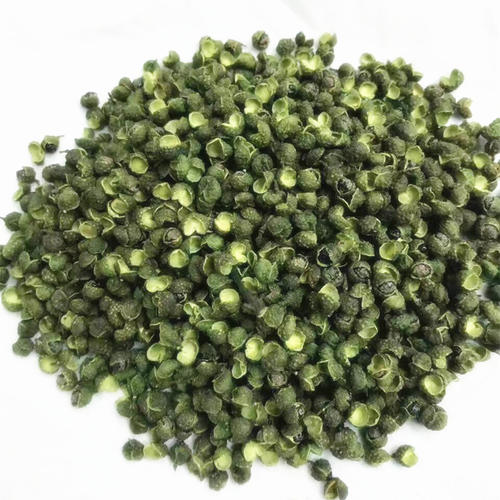 1kg with double plastic container inside/Aluminum foil bag outside.
25kg with double plastic container inside/Fiber drum outside,
or at your option.
| | |
| --- | --- |
| Product Name | Sichuan Pepper |
| Latin Name | Fructus Zanthoxyli |
| Chinese Name | Hua jiao |
| Raw Material | 100% fresh pepper |
| Product type | 100% pure natural non-additives chili pepper |
| Specification | Whole -pepper |
| Style | Dried |
| Appearance | Green Sichuan Pepper |
| Taste | Spicy |
| Dried process | AD |
| Processing type | Raw |
| Shape | Granule |
| Color | Green |
| Grade | Food grade |
| Taste | Numbing |
| Moisture | 13.5% Max |
| MOQ | 1kg |
| Storage | In clean,cool,dry area; Keep away from strong,direct light |
| Shelf life | 2 Years |
| Description | Sichuan Pepper is mostly solitary, special fresh scent, very numb flavor, good for cooking.The outer surface is purple-red or brown-red, scattered with oil spots of most verrucous protuberances, which is translucent to light observation; the inner surface is pale yellow. The fragrance is strong, spicy and persistent. |
| Application | Used as Medicine, food, spice, seasoning, soup, tea, herbal wine, beverage, gift, comestics, etc. |
The husk or hull (pericarp) around the seeds may be used whole, especially in Sichuan cuisine, and the finely ground powder is one of the ingredients for five-spice powder. It is also used in traditional Chinese medicine. The pericarp is most often used, but the leaves of various species are also used in some regions of China.
Another species of Zanthoxylum native to China, Z. schinifolium, called xiang jiao zi ( "aromatic peppercorn") or qing hua jiao ("green flower pepper"), is used as a spice in Hebei.While the exact flavour and composition of different species from the genus Zanthoxylum vary, most share the same essential characteristics. So while the terms "Sichuan pepper" and sansho may refer specifically to Z. simulans and Z. piperitum, respectively, the two are commonly used interchangeably.
Sichuan pepper figures prominently in spicy Sichuan food. It goes with fish, duck, and chicken dishes, as well as with fried eggplant. It has an alkaline pH and a numbing effect on the lips when eaten in larger doses. Ma la (Chinese pinyin: málà; literally "numb and hot"), a flavour common in Sichuan cooking, is a combination of Sichuan pepper and chili pepper.
More Delicious Recipes
Hot and Numbing Xi'an Style Oven-Fried Chicken Wings
Smoky chilies,cumin seed powder, and fennel seeds combine with Sichuan peppercorns, cilantro, and scallions for these crispy, juicy oven-fried chicken wings. The key to their perfect crunch without having to break out the deep fryer? An overnight rest with baking powder and salt.
Rice Cakes With Chili Paste, Fermented Black Bean, and Sichuan Peppercorn