Sichuan pepper
Sichuan pepper (Chinese: 花椒; pinyin: huājiāo), also known as Szechuan pepper, Szechwan pepper, Chinese prickly ash, Chinese pepper, Timut pepper and mala pepper, is a spice commonly used in Sichuan cuisine. Despite its name, Sichuan pepper is not closely related to black pepper or chili peppers. It is made from plants of the genus Zanthoxylum in the family Rutaceae, which includes citrus and rue.
When eaten, Sichuan pepper produces a tingling, numbing effect due to the presence of hydroxy-alpha sanshool. The spice has the effect of transforming other flavors tasted together or shortly after. It is used in Sichuan dishes such as mapo doufu and Chongqing hot pot, and is often added together with chili peppers to create a flavor known as málà (Chinese: Numb-spiciness; "numb-spiciness"). (Source from https://en.wikipedia.org/wiki/Sichuan_pepper)
In Singapore, there are many Chinese, and Sichuan peppercorns are a must-have condiment for Chinese every day.
Sichuan Peppercorns
The skin of Sichuan peppercorns will be a little uneven due to drying. Sichuan peppercorn is different from Sichuan pepper powder. The ingredients in Sichuan peppercorns are basically unchanged. While the Sichuan peppercorns powder is destroyed, part of the aromatic oil and hemp in it will volatilize, and the content of oil and hemp will be reduced. Therefore, Sichuan peppercorns and pepper powder are used in different ways. The peppercorns need to use high-temperature oil to burst out the fragrance, and are generally not eaten when eating vegetables. The Sichuan pepper powder is directly integrated with the dishes and can be eaten.
Some dishes must use Sichuan peppercorns but not pepper powder. Otherwise the taste is not authentic. There are still quite a few dishes cooked with peppercorns, such as Mapo tofu, boiled beef, pickled fish, pepper ma rabbit, Mao Xuewang, spicy chicken and other dishes that require numbness and spicyness in Chinese dishes. About 74.1% of Singapore's population is Chinese. Among them, there are many people with spicy taste. Sichuan pepper has also become an essential condiment in their kitchen.

If you are doing Sichuan peppercorn business in Singapore, it should be good. Sichuan peppercorns are a condiment that Chinese people love to eat. Spicy Fragrant Pot, Spicy Fish, Spicy Chicken, Spicy Pig Trotter and more. As long as there is a spicy place, Sichuan peppercorns must be needed.
If you sell Sichuan peppercorns wholesale, we will provide the most advantageous price.
Sichuan pepper origin
The origin of pepper is China. The origin of peppercorns starts from the southeast of my country in the north, the northern slope of Wuling Mountains in the south, the coastal areas of Jiangsu and Zhejiang in the southeast, and the southeastern part of Tibet in the southwest. It is found in plains to mountains with higher altitudes. In Qinghai, it is also planted on slopes with an altitude of 2500 meters.
The main producing areas of Sichuan peppercorns are Qingxi and Fulin Townships in Hanyuan County, which are known as "Hometown of Sichuan Peppercorns". Full-bodied, bright in color, thick in flesh, good in oil quality, and strong in hemp flavor.
"Dahongpao pepper", also known as "Xilu pepper", is produced in Wenchuan, Jinchuan, Pingwu and other places. In addition, there are "Xiaolu pepper", "Jinyang pepper", "Zuanhong pepper", "Gaozu pepper", "green pepper", "wild pepper", "stinky pepper", etc., all of which are good condiments.
How many kinds of Sichuan peppercorns are there?
1. Dahongpao Sichuan peppercorns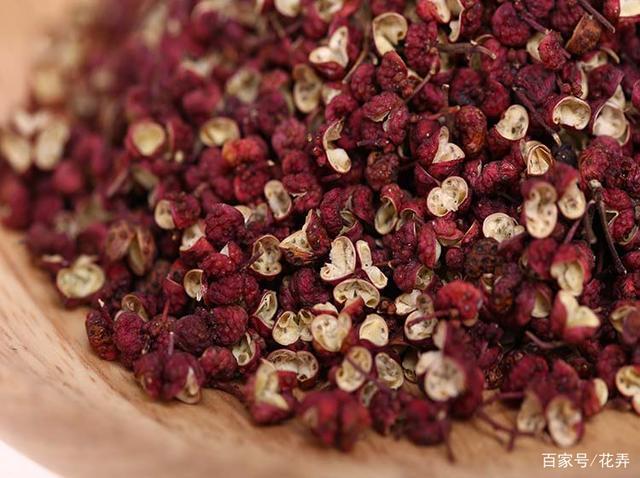 Dahongpao is also called lion head, big red pepper, pimple pepper, Qin pepper, wind pepper, etc. It is an excellent variety of Chinese pepper with a wide distribution range and the largest cultivation area in my country. Ripe fruit peel is easy to crack, and the harvest period is concentrated. After drying, the peel is dark red, with strong numbness and excellent quality.
2. Big red Sichuan peppercorns (

Dahongjiao

)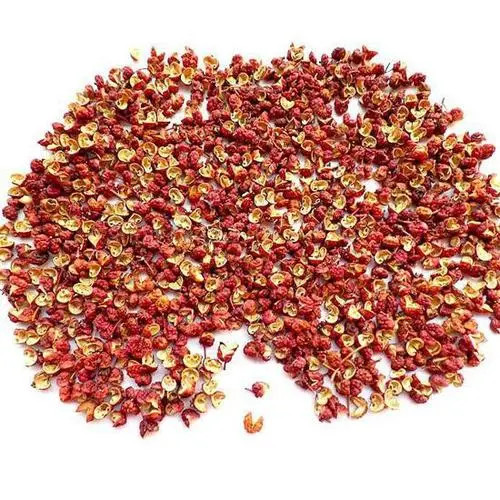 Dahongjiao is also known as oil pepper, Erhongpao, Erzhizi, etc. This variety has a medium-strong tree vigor, an open tree posture, a large branch angle, a rounded crown, and a tree height of 2.5-5 meters in the full fruit period. The fruit ripens around mid-September. The surface of the fruit is bright red when ripe, and has a bright luster, with obvious perturbation glands on the surface. After drying, the peel is sauce-red, with thick peel, rich hemp flavor and excellent quality.
3. Small red Sichuan peppercorns (

Xiaohongjiao

)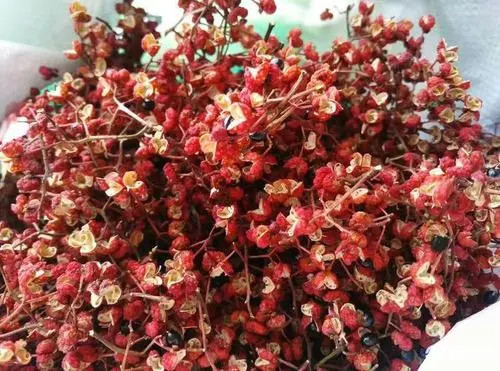 Xiaohongjiao is also called Xiaohongpao, rice pepper, Xiaojiaozi, horsetail pepper, etc. This variety has a middle-sized tree, an open tree posture, a large branch angle, a flat and round crown, and a tree height of 2-4 meters in the fruiting period. The fruit matures in early and mid-August, the peel is easy to crack, the ripening is not concentrated, and the harvesting period is short. After drying, the peel is bright red and has a strong hemp fragrance, especially the fragrance is strong and the quality is excellent.
4. White Sand Sichuan Peppercorns (

Baishajiao

)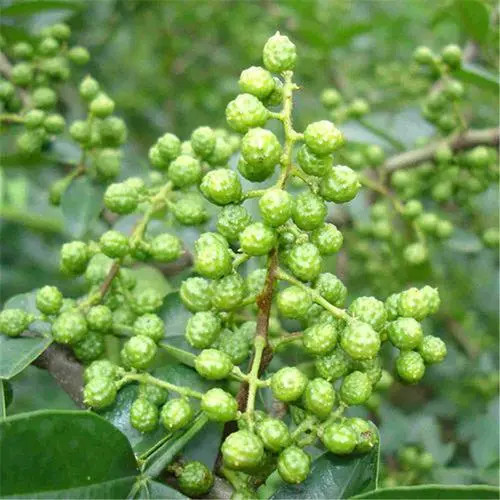 Baishajiao, also known as Bailijiao, Baishadan, has a moderate tree vigor, a relatively open tree posture, and a tree height of 2.5-5.0 meters in the fruiting period. The fruit matures in the middle and late August. After drying, the dried pepper skin is brown-red, with a strong hemp flavor, but the color is poor. White sand pepper is a medium-maturing species with strong high yield and stable yield, but the skin color is poor, the market sales are not very good, and it is not suitable for large-scale cultivation; cultivation is more common in Shandong, Hebei, Henan, and Shanxi.
5. Bean Sichuan peppercorns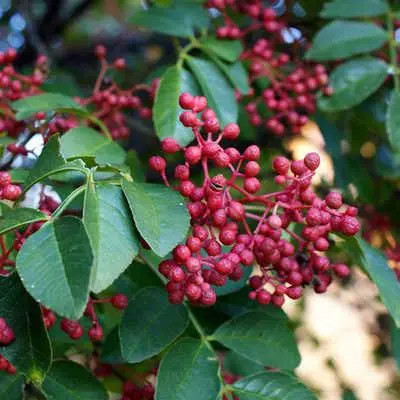 Bean pepper, also known as white pepper, the fruit matures from late September to mid-October, with thick and long stalks, loose ears, before the fruit matures from green to greenish-white, large particles, thick peel, 5.5-6.5 mm in diameter, fresh fruit 1,000-grain weight 91 grams about. The fruit is pale red when ripe, dark red after drying, and the quality of the pepper skin is medium. Generally, 4 to 6 kg of fresh fruit can be sun-dried to make 1 kg of dried pepper peel. It has strong resistance and high yield, and is cultivated in Gansu, Shanxi, Shaanxi and other provinces in the Yellow River Basin.
6. Nine Leaf Green Sichuan Peppercorns (

Jiuyeqing

)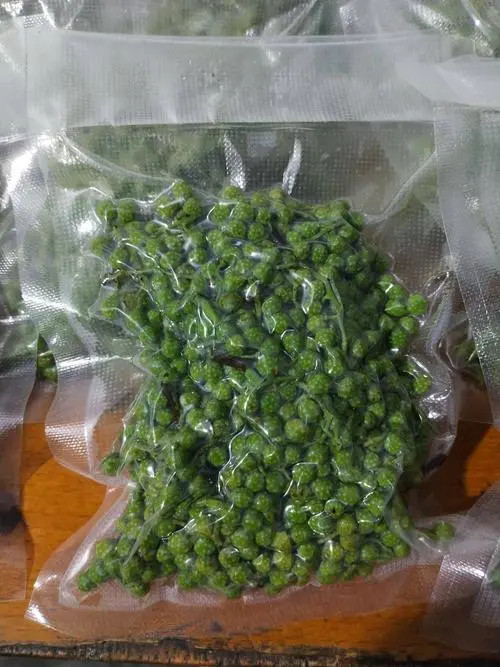 Jiuyeqing is a first-generation fine prickly ash cultivated by scientific and technological personnel in Jiangjin City. The variety is named for the 9 small leaves on the petiole. Jiuyeqing prickly ash is a temperature-loving variety. It has wide soil adaptability and is resistant to barrenness. It is suitable for various Soil, especially sloping, usually grows well in areas with 600 mm of annual rainfall.
7. Green Sichuan peppercorns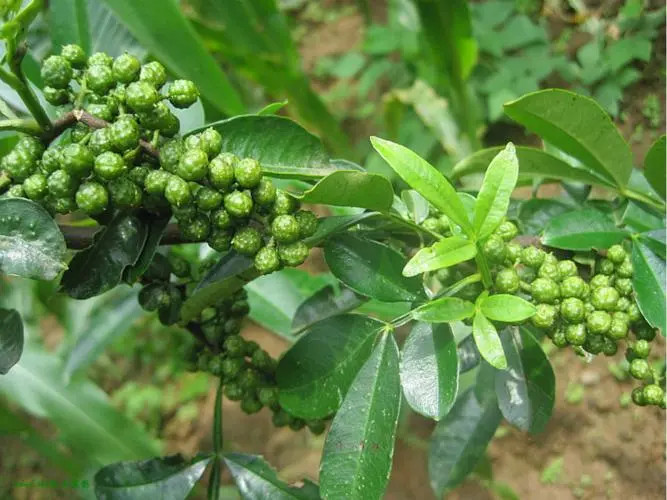 The main producing areas of green Sichuan peppercorns are in Jinyang, Sichuan and Youyang, Chongqing. The use of green peppercorns is relatively late. It was first started by chefs in Chongqing. Due to its unique aroma and strong and distinctive taste, it was quickly accepted by the market. It can be said that the success of Chongqing Jianghu cuisine is inseparable from the contribution of green peppercorns. The main characteristics of green prickly ash are that the fruit particles are round and large, the color is green, oily, and the surface oil cells are bulging and large and dense. The smell is fragrant and soft, and the hemp taste is pure and strong.
Where Can You Buy Sichuan Peppercorns Singapore?
We are a processing factory and exporter specializing in all kinds of Sichuan peppercorns. We provide high-quality Sichuan peppercorns and other Sichuan pepper products to customers all over the world. Our main products are Sichuan pepper, Sichuan green pepper, Sichuan red pepper, Sichuan pepper and so on. Our own spice factory can process all kinds of spices according to customers' needs. Our peppercorns are exported to Singapore all year round. Fast delivery and reliable quality have won wide acclaim from customers in Singapore. We have a lot of repeat customers from Singapore.
Our company was registered in the industrial and commercial sector in 2006 and is an ordinary taxpayer enterprise. The company has Chinese local brand "Xiangxinyuan", self-support import and export management rights, customs registration, food production license certification, FDA certification and HACCP international quality system certification. Can independently handle import and export commodity inspection and quarantine.
The processing workshop of our company is designed according to the requirements of the Customs and Market Supervision Administration. Most processing equipment is made of stainless steel. The main equipment includes: various condiment special grinders, pepper powder processing equipment, metal detectors, strong demagnetizers, pepper vacuum cleaners, color separators, vacuum packaging equipment, automatic filling equipment, stainless steel drying equipment, dry cleaning machines, etc. Precise equipment provides a reliable guarantee for high quality processing!
If you are in Singapore and need to buy large quantities of peppercorns, please contact us. We will provide you with high-quality Sichuan peppercorns and a pleasant buying experience.