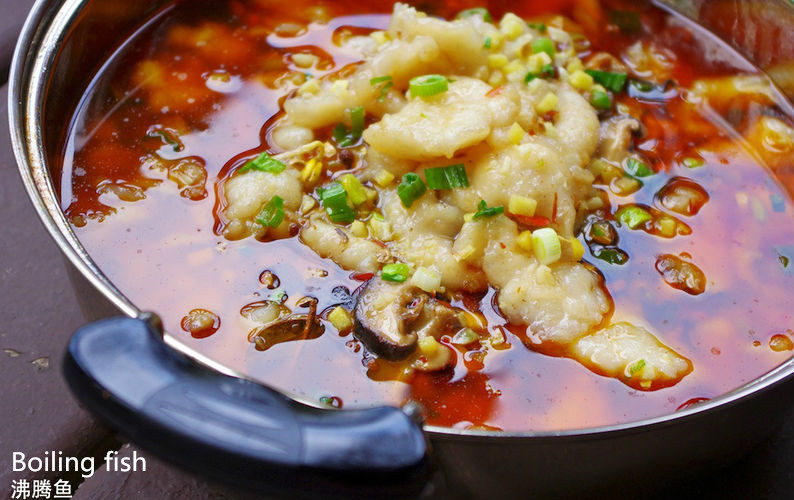 Ingredients:
Grass carp 1 (1000 grams)
Accessories:
1 egg, salad 1000-1500 grams, soup 1,250 grams, 5 grams of salt, MSG 3 grams, 4 grams of
white pepper
, cooking wine 15 grams, ginger 3 grams, 7 grams of garlic, onion section 8 grams,
Sichuan pepper
, dried
chili
amount.
1 、fish slices, add salt, white pepper, starch, wine, even with the clutch, and then fractionated by adding a small amount of starch in water, even with the clutch, then marinated for at least half an hour.
2、 fillets marinated, etc., we can prepare side dishes, burning a pot of hot water, add the fish shop in the bottom of the pot after the sprouts off students.
3 、brewed spices, pot and add the right amount of oil, oil heat, add pepper, chili, star anise, cinnamon, bay leaves, dried black beans, bean paste, turn a small fire, slowly fry 10 minutes to scent wafting, precipitation marked. Adding an appropriate amount of water to a boil, transferred to soy sauce and salt to taste, then add chopped mushrooms and cook 5 minutes tasty, cooked mushrooms fished on the sprouts.
4 、hot fish, fish a few times by adding boiling water, stir into the water with chopsticks scattered, you can remove the color white. Every time wait until then to re-boiling hot water the fish came alive again, a good hot fish, spread on mushrooms, preferably spread out evenly distributed, not crowded together.
5 、Pour the cooked soup, then chopped onions, ginger, garlic sprinkled on the surface of the fish.
6、 heating oil with a cast iron pot, cast iron saucepan here feel the oil hotter, hotter than normal stainless steel pot feeling. Burn oil smoke from the fire, and immediately pour in the fish. Here there Puchi large sound, if your oil is hot enough, it will probably last about 30s to stop boiling feeling.