| | | | | | |
| --- | --- | --- | --- | --- | --- |
| Product Type: | Single Herbs & Spices | Style: | Dried | Drying Process: | AD |
| Processing Type: | Raw | Certification: | BRC, SGS | Shape: | Granule |
| Color: | red, green-brown | Place of Origin: | Sichuan, China (Mainland) | Weight (kg): | 25 |
| Shelf Life: | 24 Months | Brand Name: | Pepper Perfume | Model Number: | W8005S |
| Type: | Pepper | Product Name: | Chinese sichuan pepper grren prickly ash | Packing of prickly ash: | PE/PP |
| Package of prickly ash: | 25kg | Color of red sichuan pepper: | red, mauve | Color of green szechuan pepper: | Brownish, green-brown |
| Moisture: | 9.5--10.5 % max | Grade of sichuan pepper: | A, B | Flavor of szechuan pepper: | spicy hot |
| Odor of prickly ash: | Fragrance, aromatic | Store: | In cool dry place | | |
| | |
| --- | --- |
| Packaging Details: | woven bag with film inside, carton |
| Delivery Detail: | 8-20 days depends quantity |
Product Description
Dried Prickly Ash
Description
Name: prickly ash, sichuan/szechuan pepper
Chinese sichuan pepper is not actually pepper, but the dried red-brown berries of a type of ash tree that have a lemony, peppery aroma. Chinese Pepper has the characteristic 'mouth-numbing' quality typical of many dishes from the Sichuan province of China. It is also one of the spices used in Chinese five-spice powder.
Specification
Oil glands morphological

Prominent oil glands, holding hard and brittle

Color and luster

Green: brownish, green-brown. Red: red, mauve.

Odor

Fragrance, aromatic

Impurity

Eyes closed pepper, seeds 8% max, stem 3% max, moldy 2% max, no fried,

5.0 % max

Essential oils

2.5--3.0 (ml/100g)

Non-volatile ether extract

6.5--7.0 %

Moisture

9.5--10.5 %

Total ash

5.5 %

Additional material

no
Culinary uses
Schezuan pepper figures prominently in spicy Sichuan cuisine. It has an alkaline pH and a numbing effect on the lips when eaten in larger doses.
Duck and chicken dishes in particular work well with the spice. Hua jiao yen is a mixture of salt and Szechwan pepper, roasted and browned in a wok and served as a condiment to accompany chicken, duck and pork dishes.
Health Benefits
1) Stimulates the taste buds in such a way that an alert is sent to the stomach to increase hydrochloric acid secretion, thereby improving digestion.
2) Is an excellent source of manganese, a very good source of iron and vitamin K, and a good source of dietary fiber.
3) Has long been recognized as a carminitive, (a substance that helps prevent the formation of intestinal gas), a property likely due to its beneficial effect of stimulating hydrochloric acid production. In addition, the pepper has diaphoretic (promotes sweating), and diuretic (promotes urination) properties.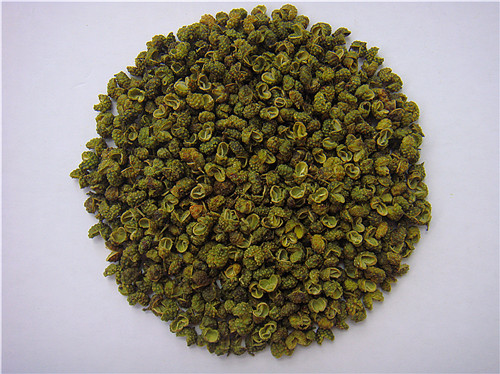 FAQ
What is fresh Chinese prickly ash?
Fresh Chinese prickly ash, also known as Sichuan pepper, is the fruit of the Zanthoxylum genus of plants. It is widely used in Asian cuisine, particularly in Sichuan dishes, for its unique flavor and numbing sensation.
How is fresh Chinese prickly ash used in cooking?
Fresh Sichuan pepper can be used in a similar manner to dried Sichuan pepper. It's often added to stir-fries, soups, hot pots, and marinades to infuse dishes with its distinctive flavor and numbing effect.
What does it taste like?
Fresh Chinese prickly ash has a spicy, citrusy flavor with a numbing sensation on the tongue. This combination of flavors is characteristic of Sichuan cuisine.
Can I substitute fresh Sichuan pepper with dried Sichuan pepper?
While both dried and fresh Sichuan peppers share a similar flavor profile, the fresh version might have a more intense and vibrant taste. You can use dried Sichuan pepper as a substitute, but the experience might differ slightly.
How do I store fresh Chinese prickly ash?
Fresh Sichuan pepper can be stored in a cool, dry place away from direct sunlight. You can also freeze it to extend its shelf life and preserve its flavor.
Can I grow fresh Chinese prickly ash at home?
Growing Chinese prickly ash at home is possible if you're in a suitable climate. It's important to research proper cultivation techniques and ensure you're using the correct variety of the plant.
What health benefits are associated with fresh Sichuan pepper?
Like dried Sichuan pepper, the fresh variety is believed to aid digestion and possess potential anti-inflammatory properties due to its active compounds.
Can I use the leaves or other parts of the plant?
Yes, various parts of the Sichuan pepper plant can be used in cooking. The leaves and twigs also carry the characteristic flavor and can be added to certain dishes.
Is it possible to buy fresh Sichuan pepper outside of Asia?
Depending on your location and the availability of Asian markets, you might be able to find fresh Sichuan pepper. However, it's more commonly available in regions where Sichuan cuisine is popular.
What precautions should I take when using fresh Sichuan pepper?
Just like with dried Sichuan pepper, it's a good idea to start with a small amount and adjust according to your taste preference and tolerance for the numbing sensation.